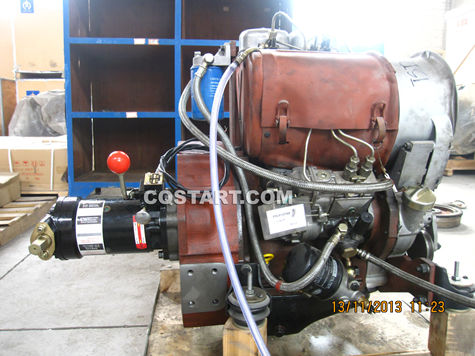 Spring starter is a cost-effective mechanical starting device, which provides engine emergency starting solution when the battery lacks power. The mechanical starter is a complete system, not any other auxiliary required, widely used in the fire pump, military, marine, emergency rescue, petrochemicals, etc.
Working principle of spring starter
Spring starter uses disc springs to store and release energy, suits mini, medium, heavy-duty, and super heavy-duty diesel engines.
Spring starter composition
One spring starter assy is comprised of four mechanical systems including hand cranking, energy storage, energy release and clutch system.
Hand cranking system
The hand cranking system consists of the crankshaft, drive gear, etc. It is designed to input and conveys manpower. There are four functions of this system. First, it determines the space and angle for hand cranking. That makes operating more convenient and comfortable. Second, the rotation direction of input torque is adjustable, ensuring rotation direction accord with axis direction of spring starter' main shaft. Third, the hand-cranking system limits the reverse rotation of the input adaptor. Fourth, it supports the main shaft in axis direction and thrust the main shaft in the radial direction.
Energy storage system
The energy storage system is the main mechanism of the spring starter. It consists of disc springs, main shaft, and some other auxiliary parts. There are two functions. One is converting input torque from the hand-cranking system to the force in the axial direction. The disc springs will be compressed by this force to store energy. The other one is converting the potential energy of disc springs to the output torque of the main shaft.
Engine release system
The release system is manipulating the mechanism of the spring starter. Its main spare parts are reset knob assy and trip lever. Reset knob controls energy storage status. Manipulate reset knob to stop the main shaft rotating, so that the whole system is ready for energy storage. When energy is full, manipulate the trip lever to release the main shaft. While disc springs will be decompressed, and the main shaft starts to rotate, driving the drive pinion to rotate, in order to drive engine flywheel.
Clutch system
Clutch system controls spring starter engage and disengage with engine flywheel. The major part of the clutch system is drive pinion. It is able to move in an axial direction with the aid of a spiral flute on the main shaft. Before starting the engine, the rotation of the main shaft drives pinion to move forward to engage with engine flywheel. When the engine starts to work, engine flywheel's rotation will drive the pinion to disengage with it.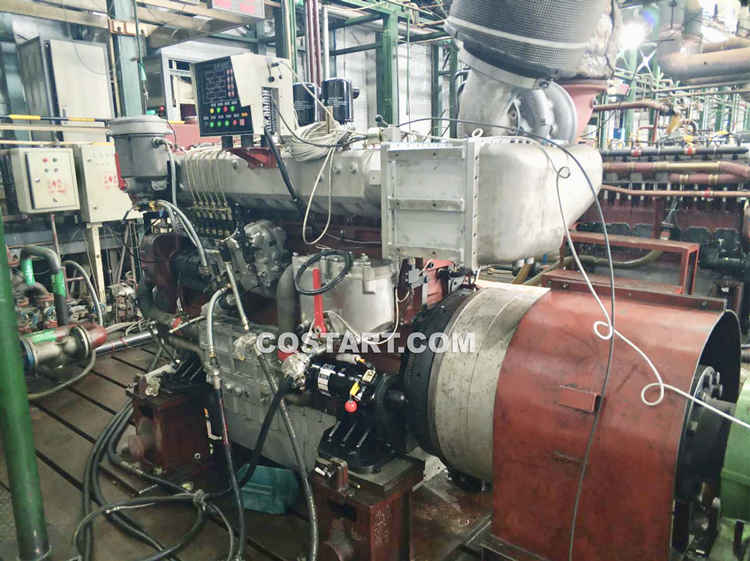 How to operate spring starter
It is easy to operate the spring starter. First, you need to confirm the fuel supply is prepared. Then pull reset knob, the trip lever will be at the "RESET" position. Use the winding handle to crank the input adaptor for specified turns to energy full. Pull the trip lever in the indicated direction to start the engine.
How to choose the right spring starter
Customers can select the product according to the engine's displacement, load, installation space and so on. And a customized spring starter can be designed and manufactured depending on the installation interface of the engine.
Cqstart Spring Starter
About Cqstart company
Cqstart is one of the leading suppliers in China, which is specialized in researching and manufacturing of the spring-powered starting device – Cqstart spring starter.
The company was established in 2008 and a protector is innovated in 2013, which significantly reduces the failure rate of spring starter, improving security. In 2016, Cqstart launched a barring tool and barring motor, which was certified as two patents, bringing engine the function of hand barring when maintenance. In 2018, through innovating distributed energy storage technology, parallel starter operation technology, Cqstart launched a new product – 0 group series, which is suitable for large engines.
Cqstart is equipped with an R & D team leading by a senior engineer, with a number of national patents, and strict manufacturing assembly process. It has gained Qualify Management System Certificate issued by CCS, adopting the OA system and ERP system to regulate daily work. Efficient work ensures high-quality products and services.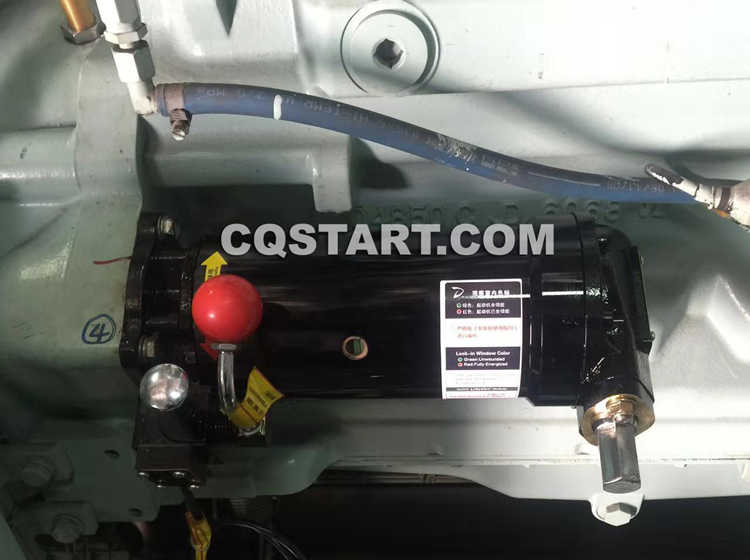 Advantages Of Cqstart Spring Starter
Maxpower (technology of springs)
With Maxpower technology, the energy storage capacity increases by 20%, the durability increases by 10%, and amount of elastic deformation decreases by 13%.
N-hold technology
N-hold improves the stability of lock by 50%, enables firmer lock and smoother unlock.
Strict test
All products are tested by the SKQDJ-A Spring Starter Starting Test Bench, ensuring that all products have detailed test data (torque, peak, revolving speed, input/output ratio, convention ratio, stabilization ratio, performance curve).
Safety
All spring starters are equipped with micro-lock switch, which substantially reduces failure cases caused by mal-operation, prolonging working life.
Advanced production line
Advanced solid grease is used in each spring starter. Its surface treatment is baking varnish. Due to anti-explosion, oil-proof, water-proof, corrosion resistance, salty mist resistance, there is no need for maintenance.
Professional service
Cqstart will provide 2D drawings to help the client choose the spring start which is the most suitable for the diesel engine and 3D drawing for trial assembly, ensuring Cqstart spring starter could work well with the engine. Each product is equipped with manuals, operation videos will be offered if required.
New record of starting power
0 group series is designed for large emergency generator sets, also suitable for other large applications and can start the engine with displacement up to 50L, which is the most powerful spring starter.
Summary
Spring starter provides a perfect solution for emergency engine starter. It is an independent mechanical starting device without any other auxiliary equipment and doesn't require any other external power. Cqstart spring starter is worth the customers' choices with outstanding performance. It is maintaining a leading position in product quality and technology.