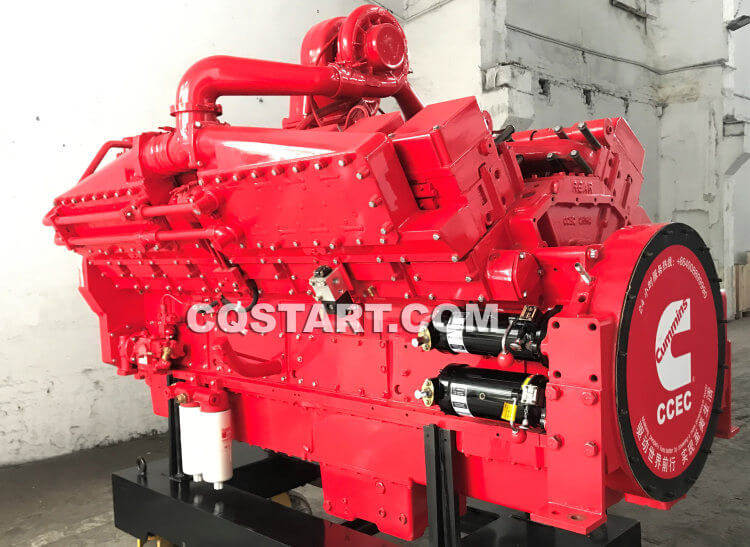 Compare to traditional engine starter which is used for engine starting by power like battery, gas, electricity and hydraulic pressure, etc auxiliary equipment. Spring Starter motor is a manual emergency hand crank starter for starting a diesel engine without any other power source. This device is reliable, used repeatedly and has a long operating life.
The feature of the spring starter motor
Start-up guarantee: The manual starting is an absolutely reliable starting device that is not affected by harsh environments.

Reliable design: The spring starter has a long history, a good record of user experience proven widely and praised worldwide with mature technology, premium material and strict control.

Compact structure: The spring starter motor with a net weight is only half of the motor starter, which can help save space and weight for improving efficiency and make the operation easier.

Safety: Safety is the core advantage of mechanical spring motor and the crank will not fly off or kickback during operation. And you can loosen the spring as needed.

Easy to operate: Compare to the electric starter, the mechanical starter can be directly screwed to the diesel engine. Pull the stroke handle to release disc spring potential energy for driving the flywheel and the purpose of starting has been achieved.
The occasions for the application of spring starter motor
The occasions with high explosion-proof requirements: mining, petroleum processing and refining and so on.

The occasions of mechanical failure easily: shock, high temperature, dusty, High salinity, etc.

Emergency situations: rescue boat, military, emergency/standby electric generator sets.
Adapted diesel engine driving carrier
Marine, tractor, grinding machine, Pump, electric generator set, construction machinery, hydraulic equipment and winch/welding/ drilling machine.
About Cqstart Spring starter Motor
Cqstart spring starter motor is manufactured by Chongqing Starting Power Unit Co., Ltd which located in Chongqing, China and has been in the mechanical starter industry for more than 10 years. The company has a high reputation worldwide with high-quality products, competitive prices professional sales team which you can contact at any time for your questions like the product knowledge, price, installation, after-sales problem and so on.
For more detailed information, please visit the cqstart.com


Low-carbon environmentally friendly: for some applications such as pumps, welding, grinding machines and electric generating sets, not only can save electricity fee but also can reduce the contamination of lead and acid.